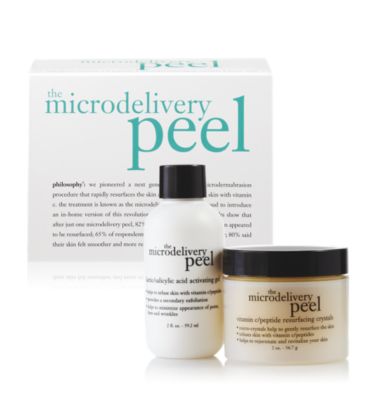 Courtesy: Philosophy.com
My girlfriend Amber, who has a great beauty blog,
Hello Gorgeous
, got me onto Philosophy products for the face. She highly recommends the at-home
Microdelivery Peel
, so I took her advice and bought it. What I discovered is she's absolutely right, it's awesome!
It's a 2-part kit with a vitamin C resurfacing crystal cream you rub onto your face, and then a lactic/salicylic acid activation gel you rub over the crystal cream. I also have the
exfoliating wash
that I start with. I first clean my face with the wash and then use the kit. You can feel it heat up and really work.
This treatment is great, it leaves my skin feeling smooth and clean, and I love knowing I just got rid of dead skin. I do this treatment 1-2 times a week. (Always gauge how your face feels. If it's a little sensitive or dry, lay off the treatments for a bit.)
Right now
Philosophy
is offering 15% all their skin care products. Just enter promo code "glowing skin" now through May 20th. (Shipping is free on orders over $50.)
Good luck and keep looking beautiful!