Courtesy: eco-asia.com
I think I'm in love. Okay, that might be a bit dramatic, but I've found a great new product line I just have to tell you about! It's a skincare line called
Kiehls
, and I actually found them on this website! They often advertise here (where it says "Hyaluronic Acid Skin Cream")--I clicked on that and found their newest product, a
Double Strength Deep Wrinkle Filler
that not only helps wrinkles, but also has these little fillers that plump up to 30x their size. The results? 94% of women saw crow's feet diminished. Score! I just ordered it, so I'll give you the scoop once it arrives.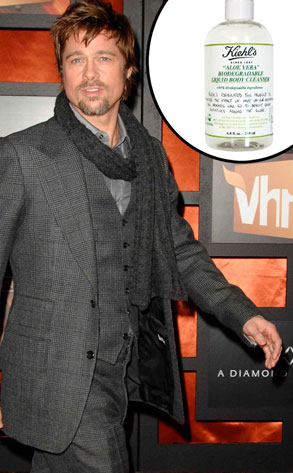 Brad Pitt even uses Kiehls!
Courtesy: Eonline
One of their other products, the
Line Reducing Eye Brightening Concentrate
, totally rocks. I ordered it about two weeks ago, and I've already noticed an improvement in my dark circles, and when I put it on, it's like my wrinkles disappear. It has 10.5% pure vitamin C, which is one of the best for anti-aging. It also has Haloxyl, which Kiehls says brightens the eye area, helping to reduce those dark circles every woman over 30 dreads.
One of the bonuses with Kiehls, is that when you place an order you get 3 free samples so you can try out other products. They also have free shipping for orders over $50. (Look, even Brad Pitt uses this line!)
Good luck and keep looking beautiful!